NEWS
Interdisciplinary CED team wins Honorable Mention in ULI Hines Competition
Apr 20, 2022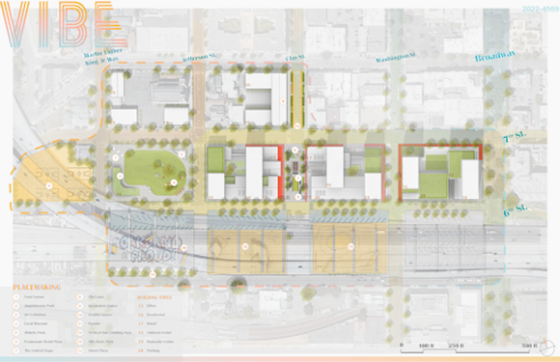 In January 2022, a team of MRED+D, MLA, M.ARCH and MUD students won honorable mention in the global ULI Hines real estate development student competition, being recognized against 92 other teams with their concept, "The Vibe."
In 2022, the competition challenged graduate student teams to design a mixed-income, mixed-use neighborhood in Downtown Oakland, California – a rare opportunity to work on a local site, since sites are chosen annually from across the country.
"The Vibe" was composed of students from UC Berkeley's Abbey MRED+D program, MUD program, MLA program, and M.Arch program:
Blaze Syka (Team Leader), Master of Real Estate Development + Design
Yunzhe Wang, Master of Landscape Architecture
Sachin Yadav, Master of Real Estate Development + Design
Jinghong Sun, Master of Architecture
Xi Liu, Master of Urban Design
The team was advised by CED faculty member Christopher Calott, MRED+D lecturer Ricardo Capretta (who teaches RDEV 220: Real Estate Development Finance), and professional advisor Yasmina Mekouar, HiPE Leadership Development Program Associate at Prologis.
The ULI Hines jury "applauded that the proposal respected the scale of Old Oakland and reflected it in the rhythm, orientation, and design of its buildings."
Q&A with "The Vibe":
Q: What makes the ULI Hines competition unique?
"The ULI Hines competition is very much a sprint. The two-week window leaves little time to really dive in and do comprehensive research and formulate alternative design concepts. It also makes it difficult to course-correct; if the team decides that the program or design isn't the best fit one week into the competition, it is hard to pull it together with only a week to go. At the same time, these elements make the competition a fulfilling experience. You're really forced to make snap decisions, work efficiently, and develop a strategy as soon as possible ahead of production time."
Q: What was a significant challenge, or challenges, that the team faced?
"In some ways, the project site's location in Old Oakland and proximity to Cal complicated our team's design and program process. The challenges around the site really constrained some of the more ambitious ideas that our team designed. Ultimately, we think we did a great job of adapting to these constraints but really think we could have been more bold in our proposal. Teams from outside the Bay Area had much more ambitious proposals, which we think the judges really responded well to."
"Additionally, the competition window overlapped with the Omnicron wave that swept through the Bay Area in December and January 2021-2022. As a result, we had limited opportunities to have work sessions in-person and inhibited some of our efforts in idea generation."
Q: What aspects of your team put you ahead of the competition?
"Our team members all had a background in design, including the members from the MRED+D program, which facilitated communication and coordination with one another in conceptualizing our proposal. We spoke the same "language" in the sense that we could carry out design conversations fluidly and even had some overlapping software skills that made for streamlined workflows. We felt there was synergy in the urban design, programming, and financial modeling aspects of our team's effort."
For information about the 2022 ULI Hines competition please see this press release.