NEWS
In Memoriam: Professor Emeritus Raymond Lifchez (1932–2023), pioneer of universal design
Sep 11, 2023
We are saddened to announce the passing of Professor Emeritus of Architecture and City & Regional Planning Raymond (Ray) Lifchez at age 90. Lifchez made a deep and lasting impact on the College of Environmental Design (CED), UC Berkeley, and the world through his teaching, advocacy for accessible design, and philanthropy.
Ray Lifchez, c. 2018. Courtesy CIL.
Lifchez taught at Berkeley for more than 50 years, beginning in 1972. He received the University's Distinguished Teaching Award in 1976 and the Berkeley Citation in 2008. He was also honored with the Association of Collegiate Schools of Architecture Distinguished Professor Award in 2002. This spring, Berkeley awarded him with the Fiat Lux Faculty Award.
"Ray was a valued member of the college, both during his 50-plus-year tenure as a professor and in the years since his retirement," says William W. Wurster Dean Renee Y. Chow. "He was an inspiring and generous teacher, remembered for his formative writing workshops and socially conscious studios. He embodied the Berkeley ethos in his insistence that the built environment should be accessible to all. He will be greatly missed."
Born in Columbia, South Carolina, in 1932, Lifchez earned his BArch at the University of Florida. He then headed north to New York to teach and study at Columbia University, where he was awarded both an MS in architecture and an MA in art history. It was in an art history course there that Lifchez met his future wife, Judith Lee Stronach, a journalist, poet, arts patron, and human rights activist. They married in 1967 and three years later moved to Berkeley, where Lifchez earned a Master in City Planning and then joined the CED faculty. Lifchez and Stronach were married for 35 years, until Stronach's death in 2002.
Lifchez was a pioneer in incorporating accessibility and disability justice into design education. Before coming to Berkeley, he had worked on renovating a New York state residential mental health facility, where he befriended patients with disabilities; there he learned that many of them were institutionalized only because the urban environment was physically inaccessible to them. He realized it didn't have to be that way when he arrived in Berkeley in 1967 — drawn in part by the school's reputation for social activism — and witnessed a city being reshaped by the nascent Disability Rights Movement.
"Ray played an important role in launching the independent living focus that became central to disability rights movements in the U.S. and then globally," says Frederick Collignon, professor emeritus of City & Regional Planning. "As a teacher, he trained and mentored many who have become leaders of designing for those with disabilities in professional practice, education, and government."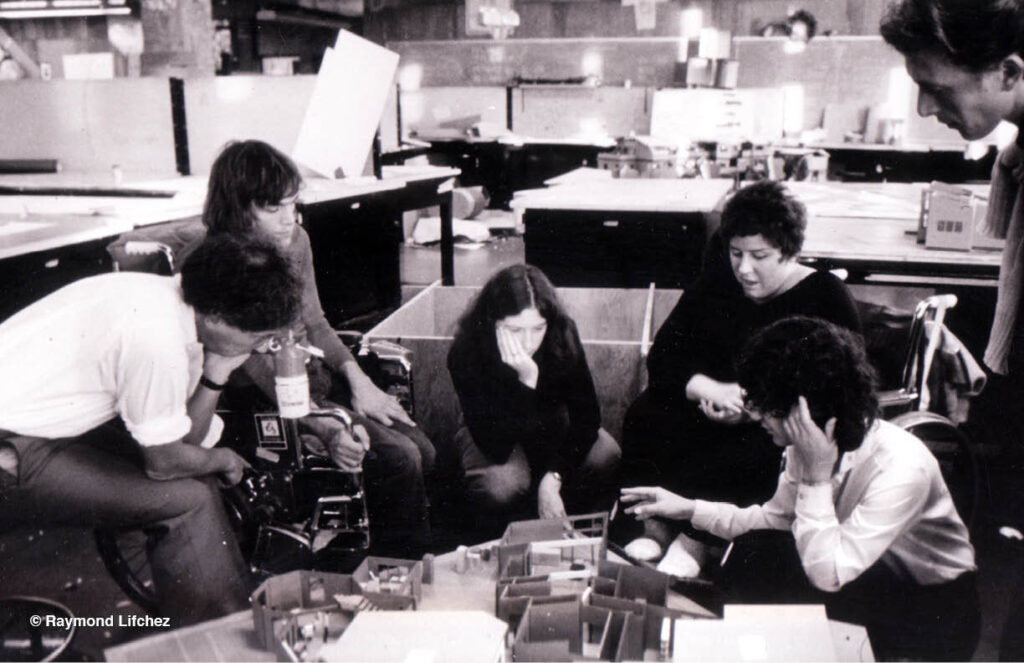 Ray Lifchez with students in his studio course, Architecture 101 Designing for People with Disabilities, 1970s.
Lifchez developed an innovative studio course centered around the concept of accessibility in architectural design, which he began to teach in 1969 while still a graduate student. In an unprecedented move, he invited people with physical disabilities into the studio as "clients" who advised on design projects. This predated by 20 years the idea that has become the motto of today's disability rights activists: "Nothing about us without us."
The course, Architecture 101 Designing for People with Disabilities, fit neatly into the college's program on social factors in design, which taught students the importance of making buildings and environments responsive to human needs. Lifchez encouraged his students to be empathetic and to consider broader questions about life as a person with disabilities in a world constructed for the able-bodied.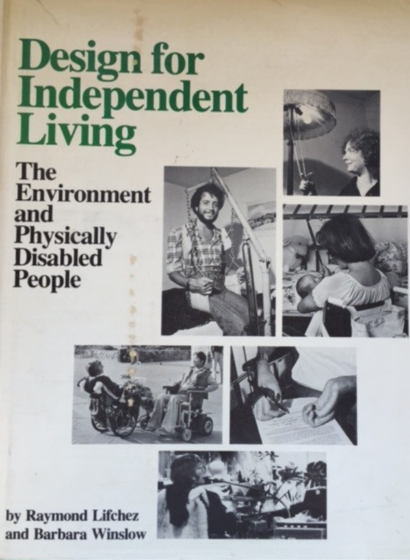 Lifchez published two books about universal design based on what he learned though his teaching, Design for Independent Living: The Environment and Physically Disabled People (UC Press, 1979) with co-author Barbara Winslow, which was nominated for a National Book Award, and Rethinking Architecture: Design Students and Physically Disabled People (UC Press, 1986). He also advocated to admit students with disabilities into the department and played a leading role in one of the earliest projects to assess the accessibility of campus buildings for wheelchair users. He was a faculty leader in the creation of the disabilities studies program on campus. Lifchez was also involved in the protests that led to the implementation of Section 504 of the Rehabilitation Act of 1973 that created legal rights for people with disabilities in California and eventually led to the federal Americans with Disabilities Act (ADA). More recently, he served as an executive producer of the Academy Award–nominated documentary Crip Camp: A Disability Revolution (2020).
In 2018, the Center for Independent Living (CIL) awarded Lifchez the Ed Roberts Day Award, which honors those who have made significant contributions to the Disability Rights Movement. With other Berkeley faculty, he had assisted in the conceptualization and work of CIL, which then influenced the development of similar centers across the U.S. and then the world.
"What Ray did with Berkeley as his base (and sometimes as his collaborator and often as his beneficiary) changed the world," says Professor Emeritx of English Susan Schweik, who was involved with the development of disability studies at Berkeley for over 25 years.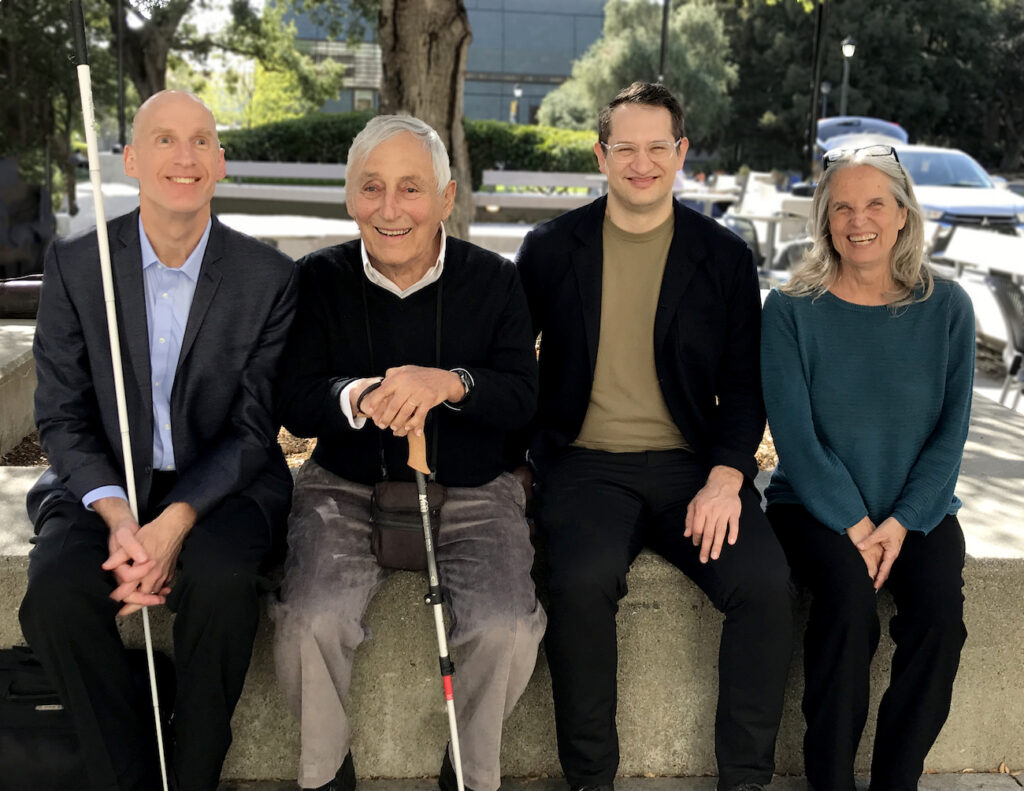 Ray Lifchez (second from left) with Chris Downey, 2021 Lifchez Professor of Practice in Social Justice; Jeffrey Mansfield, 2022 Lifchez Professor of Practice in Social Justice; and Professor Emeritx of English Susan Schweik, 2022.
CED carries forward and honors Lifchez's vision with the Lifchez Professor of Practice in Social Justice, an annual visiting professorship endowed by a $2.5 million gift from Lifchez. Since its inauguration in 2020, the college has awarded the professorship to architects Chris Downey, who is blind; Alan Ricks, a co-founder of MASS Design Group, which is dedicated to design that promotes justice and human dignity; and Jeffrey Mansfield, who leads MASS Design Group's Deaf Space and Disability Justice Lab.
In addition to the endowment for the Lifchez Professor of Practice in Social Justice, Lifchez generously sponsored multiple other campus programs, prizes, and fellowships. Many of these honor his late wife's passion for poetry and their shared interest in art history. At CED, these include the Berkeley Undergraduate Prize For Architectural Design Excellence, the Judith Lee Stronach Undergraduate Summer Scholarships, and the Richard Bender Fellowship Fund. He also donated the Raymond Lifchez and Judith Lee Stronach exhibition cases to the Environmental Design Library.
Elsewhere on campus, Lifchez endowed the Robert Hass Chair in English; the Judith Lee Stronach Baccalaureate Prize in the College of Letters and Science; the Raymond Lifchez / Judith Stronach Art History Travel Endowment; and the Judith Stronach Literary Prize for Re-Entry Students.
"Ray's philanthropic legacy serves as a powerful testament to his unwavering dedication to bettering society. His impact resonates not only within CED but across our entire campus community," says Kim Anthony, CED interim assistant dean of development and alumni relations.
As a teacher, mentor, advocate, activist, and philanthropist, Lifchez left a legacy far beyond UC Berkeley. His belief that the built environment should accommodate people of all sizes and shapes, all ages, and all levels of physical and cognitive ability has changed not only our cities and buildings but our attitudes as well. Generations of his students carry forward his message that "universal design welcomes and celebrates all users."