NEWS
EDA completes NEH Grant for Walter Hood Collection
Feb 17, 2021
The Environmental Design Archives (EDA) at the University of California, Berkeley is pleased to announce the completion of a project funded by the National Endowment for the Humanities: Collections and Reference Resources Grant to process and make accessible significant source materials created by urban designer Walter Hood. Walter Hood (1958-) is recognized as one of the most accomplished landscape designers and urban planners in the United States.
He teaches in the Department of Landscape Architecture and Environmental Planning at the University of California, Berkeley, and is the creative director of Hood Design Studio in Oakland, CA. Since 1992, his firm has reflected a fundamental desire to design for communities where landscape architecture is essential, though often neglected. Hood's work focuses on creating environments for people to live, work, and play through engagement with a community and its history. His practice encompasses both the traditional parameters of landscape architecture and embraces urban design, community, architecture, environmental art, and research. Critics have deemed Hood's projects transformational, in particular, Oakland's Lafayette Square and Splash Pad Park, for their ability to turn overlooked landscapes into popular and vital social spaces.
The 18-month project, Walter Hood: Redefining the Public Realm, resulted in the processing of this designer's work from 1995-2014 and provides access to the records of Hood's practice for scholars in urban planning, landscape architecture, and American studies, research and teaching in the broader humanities, and the general public. In her letter of support for this grant, Thaisa Way, Professor of Landscape Architecture at the University of Washington wrote, "Hood's work is fundamental to understanding how contemporary designers are addressing the acute challenges of the 21st century, from climate change to racism, from community to equity, from design to performance."
The addition of Hood's collection is part of a concerted effort by the Environmental Design Archives to ensure that significant and diverse voices in Northern California design are preserved and made accessible. The Walter Hood Collection consists primarily of project files and drawings, firm portfolios, models, and personal sketchbooks. Physical and digital files for design work span the length of Hood's career from 1996-present but primarily focus on projects completed in California. The collection includes 20 boxes of manuscript materials, 7 flat files of drawings, 14 models, and 57 GB (13,351 digital files) produced by Hood and his firm.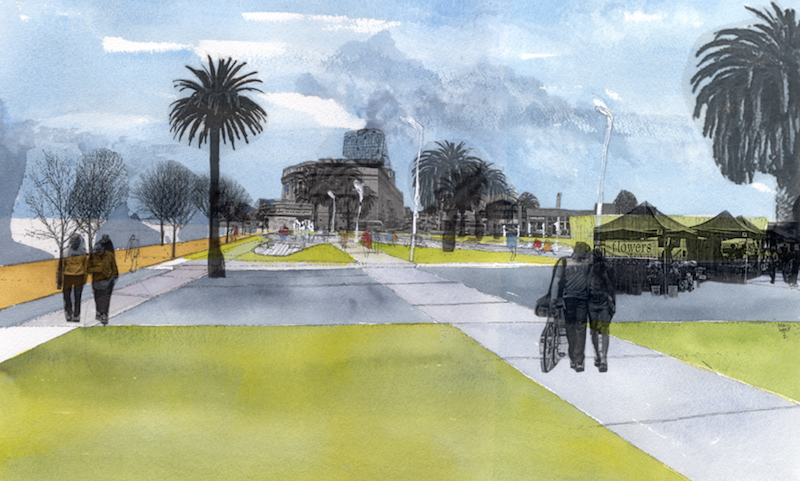 Watercolor of Splash Pad Park (Oakland, CA) 2001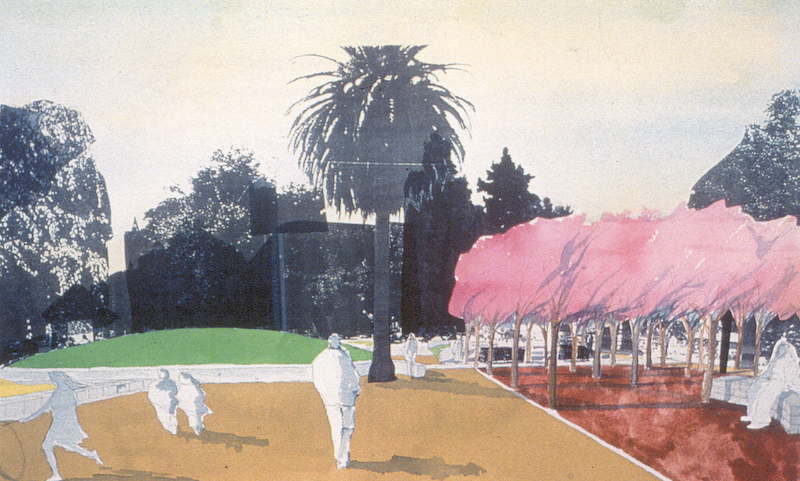 Watercolor of Splash Pad Park (Oakland, CA) 2001