NEWS
Catherine Bauer Wurster
Dec 9, 2020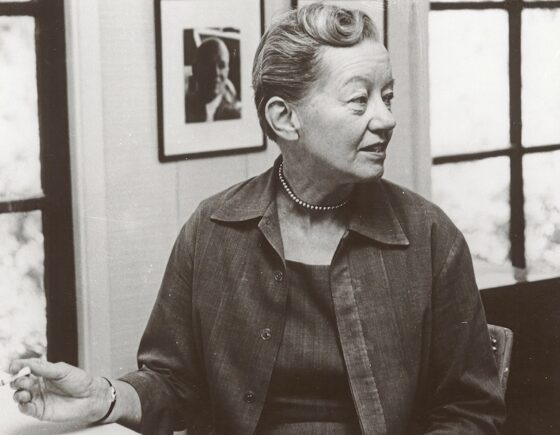 Catherine Bauer Wurster served and advised Presidents Roosevelt, Truman and Eisenhower on housing and urban planning strategies; penned the U.S. Housing Act of 1937 and the critically-acclaimed book, Modern Housing, which cemented her legacy as a champion of public housing for decades to come and which was reprinted this year by University of Minnesota Press.
In addition, she was an educator, academic, and activist. The resume of Bauer Wurster is neither short nor lacking stamina in its plethora of impressive feats, and yet she never received acclaim like other leaders in her field, such as Jane Jacobs.
Bauer Wurster spent 24 years as an educator at both UC Berkeley (1940-1944, 1950-1964) and Harvard (1944-1950). She became the fifth faculty member and first woman to join the Department of City and Regional Planning at UC Berkeley. A fervent believer in interdisciplinary education, she rewrote the undergraduate curriculum and contributed greatly to its legacy today.
Most importantly, Bauer Wurster was an integral force in pioneering the creation of the College of Environmental Design at UC Berkeley, the first ever of its kind in the world. The College was established in 1959, linking the departments of Architecture, City and Regional Planning, and Landscape Architecture, where Bauer Wurster would eventually become associate dean.
Wurster Hall, soon to be Bauer Wurster Hall, on the UC Berkeley campus, home to the College of Environmental Design, was named in honor of both William W. Wurster and Catherine Bauer Wuster, respectively the College's dean and associate dean.
Bauer Wurster died on November 21, 1964, by way of a hiking accident on Mount Tamalpais in the Bay Area.
---
In the Press
---
Work at UC Berkeley
During her tenure at the College of Environmental Design, Bauer Wurster served as a lecturer in City Planning and initiated the first ever curriculum audit to ensure that students in City Planning received an interdisciplinary education. Later, Bauer Wurster was a leading force in creating the college itself, suggesting the campus' departments of Architecture, City and Regional Planning, and Landscape be linked together. The College of Environmental Design was established in 1959 and was the first ever of its kind.
Bauer Wurster arrived at Berkeley in 1940 as a Visiting Lecturer at the UC Berkeley School of Social Welfare. Ten years later, she became the fifth faculty member and first woman in the Department of City Planning. She made early impacts within the department as she was integral to establishing and building out DCRP's research programs, namely graduate level research seminars.
Wurster was a founding member of the lunch discussion group concerned with the man-made environment, which included art and sculpture as well as city planning, architecture, and landscape architecture.
In 1953, that lunch discussion group formalized into the ACPLA Committee (Architecture, City Planning, Landscape Architecture) in order to develop a proposal to establish the "College of Environmental Design." Their work over the course of four years resulted in a report to the Chancellor's Review Committee investigating the feasibility of linking all three departments. The establishment of the College of Environmental Design made it the first of its kind in the world.
Furthermore within the department of City and Regional Planning, Wurster worked closely with T.J. Kent, chairman of the Department of City Planning, to broaden the curriculum so it incorporated more social sciences. She was also instrumental in creating the Institute of Urban and Regional Development.
In 1963, Wurster officially became the Associate Dean of the Department of Landscape Architecture under further hopeful implications to eventually name her associate dean of the college as well.
---
Work in Government and Policy
In the prelude to the publication of her acclaimed book Modern Housing in 1934, Bauer Wurster traveled the country, as secretary of the Labor Housing Conference (LHC), using her platform to persuade unions from across the nation to set up housing committees garnering support and raising money to begin the legislative push to lobby Washington to tackle the housing problem in the United States. Bauer Wurster opposed the creation of the Federal Housing Administration, arguing against their practices and necessitating "adequate housing for those who needed it had to be treated separately from slum clearance."
In 1935, Bauer Wurster spearheaded the proposal for the development of two permanent federal agencies with independent administrations, the Federal Housing Corporation and the Housing Bureau. Through their establishment, Bauer Wurster aimed to make modern housing universally affordable and accessible, taking advantage of modern planning and large scale production technology to benefit both builders and consumers.
Those legislative efforts never came to full fruition but two years later, President Roosevelt signed the 1937 United States Housing Act, a legislation Wurster had the main hand in writing, legislating, lobbying, and fine tuning, into law. Bauer Wuster consistently spoke out against entrenched racial and social segregation, one of the implications from the 1937 act, in her unpublished and published writings. She also created and chaired a committee under the National Public Housing Conference—to consider segregation and discrimination in public housing and to prepare a statement on race relations for further action on a national level.
Throughout her career, Wurster would go on to advise three presidents on housing and urban planning strategies.
Other notable feats include stints as the vice-president of the California Housing Association, founder and director United States Housing Authority's division of research and administration, and could probably do one more.
---
Publications