NEWS
BREC Summit explores ESG frameworks in the real estate market, MRED+D student Serena Lousich moderates
Nov 23, 2022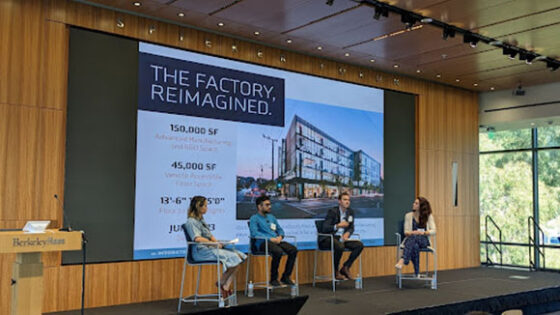 The Berkeley Real Estate Club (BREC) hosted their 2nd Annual Real Estate Summit on Friday, September 30, 2022 in the Spieker Forum at UC Berkeley, Haas School of Business. The event was guided by a collective commitment to environmental, social, and governance (ESG) frameworks to provide for both the community and the planet. The Abbey Master of Real Estate Development + Design program co-sponsored the event, with many current students in attendance, and one such student — Serena Lousich — serving as a panel moderator.
Kicking off the event, Matt Macko discussed his creation of Stok and the company's values in relation to ESG frameworks. Founded in 2008, Stok provides sustainability consulting, energy and performance engineering, and real estate and workplace solutions.
Next — on the first panel of the day — the 300 Kansas project team of Ethan McCall (Spear Street Capital), Allyson Chavira (Webcor), and Prateek Jain (Atelier Ten) showcased the project's zero-carbon strategy that will be a blueprint for other PDR (production, distribution, and repair) buildings in San Francisco. MRED+D student Serena Lousich served as the moderator for this discussion.
Serena explained that her motivation to moderate the panel was driven by her interest in ESG frameworks.
"I chose to be a moderator because of my passion for ESG and my experience with ESG components in the built environment as a landscape designer. When I heard that the BREC Summit would revolve around this topic, I had to get out of my comfort zone and volunteer to moderate a panel. The experience was nerve-racking at first as public speaking has never been my forte, but I'm glad I stepped up to the plate and Kyle and Albert from BREC made the process leading up to the panel smooth and enjoyable. The panel itself; Ethan, Prateek and Allyson represented the project so well, the audience responded well to their expertise and I felt the excitement of being up there and doing something I've never done before."
For the second panel, Lauren Krause (Oxford Properties) and Christina Donovan (Sares Regis) shared their experiences as ESG leaders in development. The two discussed ongoing trends and key challenges in ESG development by contrasting the application of ESG to multifamily properties versus commercial properties.
For the last panel, Eric Chebil (Cher), Jack Woodruff (Landed, EWMBA Haas), and Nima Wedlake (Thomvest Ventures) discussed proptech ventures.
To close the Summit, Alan Dones of the Strategic Urban Development Alliance (SUDA) spoke to the necessity of community engagement and participation in a socially equitable development.
The goal of the Abbey MRED+D program is to train the next generation of real estate development professionals to respond to the urban challenges of the 21st century. Responsible development and ESG frameworks are necessities of the 21st century real estate market, and the Second Annual BREC Summit provided MRED+D students with critical industry exposure to present real estate issues.