NEWS
Berkeley Rupp Prize awarded to Sierra Bainbridge, co-founder of MASS Design Group
Aug 28, 2023
Sierra Bainbridge, a cross-disciplinary designer who holds degrees in both architecture and landscape architecture, will be in residence at the College of Environmental Design throughout the academic year.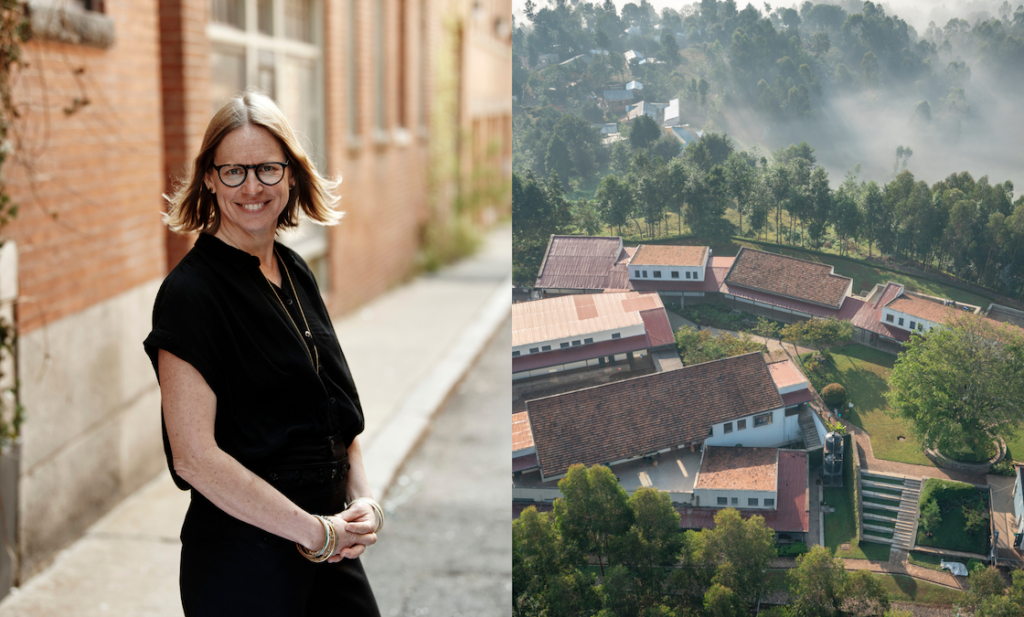 The College of Environmental Design (CED) is excited to announce that Sierra Bainbridge is the recipient of the 2023–2024 Berkeley Rupp Prize.
Bainbridge, an award-winning landscape architect and a co-founder of MASS Design Group, has worked at the forefront of initiatives that explore the role of design in cultural and environmental healing. Her projects, which emphasize dignity and truth-telling, address equity and justice in the context of a global community.
"I am committed to design as a tool of healing and I am constantly rediscovering what that means," Bainbridge says.
The biannual Berkeley Rupp Prize is a $100,000 award that recognizes the special values that women bring to the built environment. This honor is given to a distinguished design practitioner or academic who has made a significant contribution and commitment to architecture in the areas of gender equity; environmentally sensitive use of resources; community; Diversity, Equity, and Inclusion (DEI); and/or innovation.
A residency at CED, which includes opportunities for teaching, public lectures, and creative scholarship, is intended to provide the recipient with inspiration and time for reflection that may inform future contributions to the profession. The Berkeley Rupp Prize is made possible through a generous bequest to the campus by architect Sigrid Lorenzen Rupp (BArch 1966).
The nominating committee selected Bainbridge from a strong pool of invited candidates. "We were particularly excited that Bainbridge's proposal bridges multiple topic areas of the college — landscape architecture, architectural design, and building performance," says Lisa Iwamoto, chair of the Department of Architecture.
Bainbridge is the fifth recipient of the prize, which was last awarded to architect Deanna Van Buren in 2018. (The awarding of the prize was paused in 2020 due to the pandemic.) Over the coming 2023–2024 academic year, Bainbridge will be in residence at UC Berkeley, teaching a seminar and studio focused on design solutions to the climate crisis.
"We are delighted that Sierra will be joining the distinguished group of Berkeley Rupp Prize winners, bringing to the college her visionary focus on cultural and environmental stewardship through design," says William W. Wurster Dean Renee Y. Chow. "A member of the nomination committee remarked, 'What an astonishing 'half' career! What will her next half of her career bring?' While we know that our community will learn much from Sierra, we also hope that Sierra will find her time here on campus rewarding to her future work."
A mission-driven practice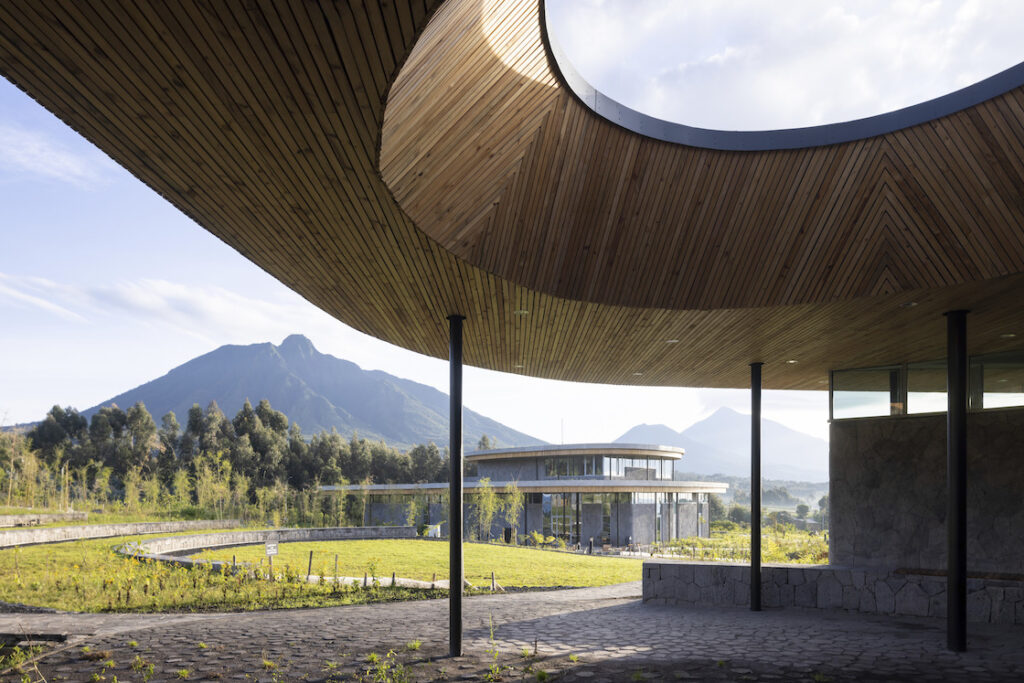 As a student, first at Smith College, then at the University of Pennsylvania, where she received her MArch and MLA degrees, Bainbridge quickly became interested in the transformative potential of housing. But at the time, architecture and landscape architecture were on different trajectories. The architecture community was focused on glass, steel, curtain walls, and 3D design — projects that didn't have the public impact Bainbridge wanted. "Samuel Mockbee's Rural Studio in Alabama's Black Belt was the only model I saw for the kind of work I wanted to do," Bainbridge says.
Instead, Bainbridge went into landscape architecture. Her early work with James Corner Field Operations was helping to develop "big, complicated urban projects that allowed people access to landscapes in unlikely places," including the first section of New York City's High Line.
"Working on the High Line was the most amazing learning experience," Bainbridge says. It helped direct her thinking about landscape architecture and the ways it can redefine people's relationships with their communities and environment.
While working on the High Line, Bainbridge was also teaching at Harvard's Graduate School of Design, where she met three graduate architecture students who were trying to build a hospital in Rwanda. Together, they would go on to found MASS Design Group, a rare example of a mission-driven, nonprofit architecture firm. (MASS stands for Model of Architecture Serving Society.)
Named firm of the year by the American Institute of Architects in 2022, MASS is known for projects such as the Butaro District Hospital in Rwanda (2011); the National Memorial for Peace and Justice in Montgomery, Alabama (2018); and the Ellen DeGeneres Campus of the Dian Fossey Gorilla Fund (2022).
Making an impact: Butaro Hospital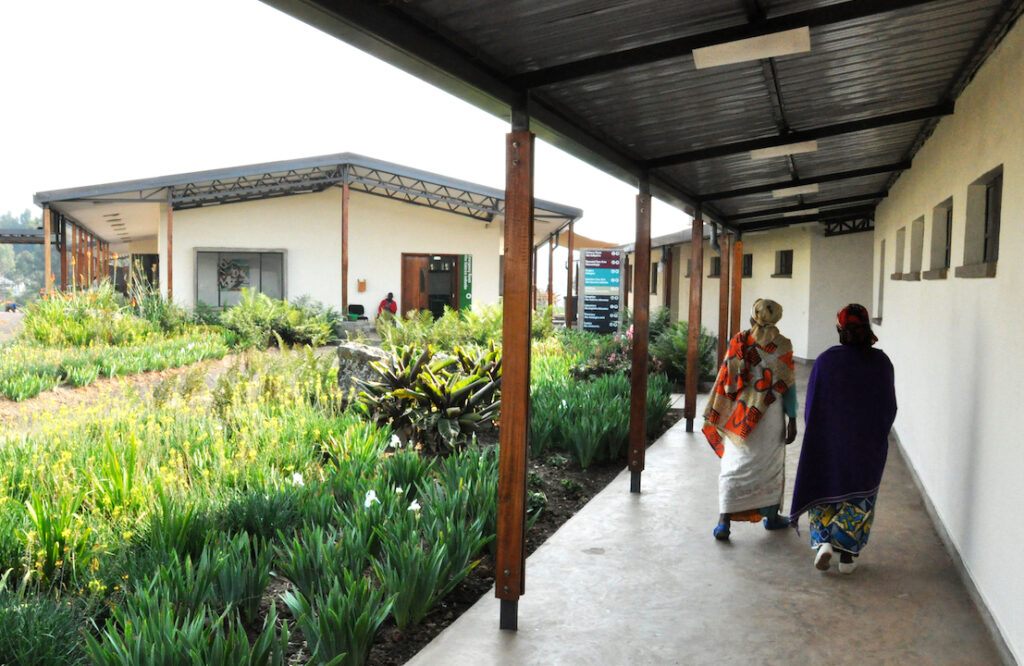 In July 2009, two weeks after finishing the first phase of the High Line, Bainbridge flew to Rwanda. In approaching the design of the Butaro Hospital, Bainbridge's primary consideration was dignity. To Bainbridge, a hospital — a place of healing — should make people feel well-cared for.
It became clear to Bainbridge that the project required a novel approach to design and construction. It couldn't just mimic American hospitals. "We were really inspired by the work of [Harvard medical anthropologist] Paul Farmer and his organization Partners in Health," which advocates for community-based healthcare strategies in resource-poor settings.
The MASS team strived to work "without Western preconceptions." They partnered with the clinicians who would work in the hospital and viewed them as the experts. "Purpose-designed solutions at Butaro came from understanding how the healthcare system worked at a hyper-local level. Problem-solving in design must be specific to the context," Bainbridge says.
MASS proactively addressed challenges the hospital would face. Without around-the-clock electricity, how do you guarantee consistent air flow throughout the hospital? How do you organize waste sequencing in an operating room, assuming an inconsistent supply of freshwater? Most importantly, how do you help patients and their families feel at home in a hospital?
Bainbridge and her team opted for an open-air design that emphasizes patients' well-being, physically through cross-ventilation that helps mitigate the transmission of airborne diseases, and emotionally by connecting rooms to the surrounding landscape.
Using what they learned designing and building the hospital, MASS worked with the government to create guidelines for all healthcare infrastructure in Rwanda. "The ethos of our work has always been rooted in healing," she says. "The hospital project addressed not only physical healing but also the underlying societal issues that contribute to poor health."
The construction of the Butaro Hospital had wide-ranging impacts on the community beyond the realm of healthcare. In order to build the hospital, MASS and Partners in Health trained locals as subcontractors on-site, creating jobs and ensuring community investment in the project. They reintroduced the use of local volcanic stone as a building material, which is now being used again across the region. The project also led to MASS's participation in creating the curriculum for a new program in architecture at the University of Rwanda, so that Rwanda's rapid post-genocide development would be guided and designed by Rwandan architects educated in Rwanda.
Landscapes of cultural healing
The Butaro Hospital was a milestone for Bainbridge and MASS, but she continued to be curious about the work still to be done at home. What lessons might be applicable to design in the United States? What kinds of healing might design be able to support in the United States?
MASS Design Group started to take a hard look at systemic injustices at home, as well as the ways that landscape architecture could bring those histories to light. "Landscapes," Bainbridge notes, "are remarkable keepers of stories."
This led to another of MASS's landmark projects, the National Memorial for Peace and Justice in Montgomery, Alabama, designed with Bryan Stevenson and the team at the Equal Justice Initiative (EJI). Completed in 2018, it is the first national memorial acknowledging racial terror lynchings and creating a place of mourning for descendants. Minimalist in design, the memorial is a contemplative space that speaks to the horror of lynching and honors the more than 4,000 African Americans who were murdered this way in the U.S.
The memorial structure on the center of the site is constructed of over 800 corten steel monuments, one for each county in the United States where a racial terror lynching took place. The names of the lynching victims are engraved on the columns.
The memorial is more than a static monument. Duplicates of each of the monuments lie in a memory bank in the landscape. Counties across the U.S. are invited to engage in a process of acknowledgment and reconciliation by claiming their monument and placing it as a marker in their own community. It is EJI's hope that the memorial inspires communities across the nation to enter an era of truth-telling about racial injustice and their own local histories.
Projects like these, which exist at the intersection of architecture and landscape architecture and provide opportunities for healing, are at the crux of Bainbridge's inquiry. "The question was how this process might begin to open up opportunities for empathy, humanity, and deep societal healing," Bainbridge says of the marker design.
From cultural healing to planetary healing
During her tenure as the Berkeley Rupp Prize awardee, Bainbridge will teach a fall research seminar and a spring design studio that bring students in architecture and landscape architecture together to focus on climate solutions through design.
"The Berkeley Rupp Prize supports an intentional shift in the focus and impact of my work, expanding the learnings of cultural healing through memorials toward the urgency of planetary healing," Bainbridge says. But she also sees these as connected: climate change is impacting the most vulnerable populations across the globe. "Caring for our planet, our species, and each other will also ensure that communities globally can continue to pursue vital reconciliation work and have the agency to protect their, our, future generations."
Through research and teaching, she plans to elaborate on a design methodology developed through work on the Rwanda Institute for Conservation Agriculture and The Ellen Degeneres Campus of the Dian Fossey Gorilla Fund. These projects are informed by the One Health philosophy, the understanding that human health, animal health, and ecosystem health are intertwined. Her courses will explore strategies that minimize architecture's carbon footprint while utilizing landscape to attain carbon neutrality.
"In Rwanda, I saw how local fabrication can result in a low-carbon, biodiverse, and locally impactful project. I plan to use my time at Berkeley to deepen, codify, and apply these learnings to future projects," Bainbridge says.
Students in her Berkeley seminar will seek to understand the concept of planetary boundaries, and how we can live within them by design. In the studio course, students will attempt to design completely carbon-positive projects.
"Our students will benefit immensely from a studio that combines carbon analysis with design strategies across both building and landscape scales," says Iwamoto.
In the spirit of the Berkeley Rupp Prize, Bainbridge plans to draw upon her network of female colleagues, inviting women who are working on cutting-edge climate solutions to campus as research and design mentors. "It's important for students to have access to female leaders in design," she says.
The public will have a chance to hear from Bainbridge at the Berkeley Rupp Prize Lecture (date to be announced).