NEWS
Architecture Alumnus Ephraim Baran Passes Away
Jun 22, 2017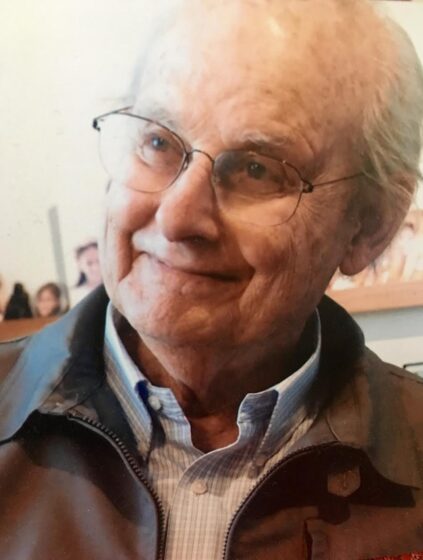 Ephraim Isaac Baran (BA Arch '51) passed away at age 95 on June 7, 2017 in his home in Santa Monica. Born in Sacramento in 1921, he was the son of Mayer and Dora Baran, immigrants from the Ukraine. He moved with his family to the Boyle Heights neighborhood of Los Angeles and lived in the city for most of his life. Over the years, he played an active role in the architecture of Los Angeles.
Baran studied architecture at UC Berkeley. His college career was interrupted by service in the Army from 1942 to 1947, where he headed up the military intelligence library and trained as a fighter pilot. He married his wife, Annette in 1948, and returned to Cal to complete his architectural degree.
In 1952, Baran founded the architectural firm of Rochlin & Baran with his closest friend, Fred Rochlin (BA Arch '49), a classmate at Cal. They established their first office in Van Nuys and moved several times as the firm grew. In 1985, they relocated to Wilshire Boulevard in Westwood, where the company became RBB Architects with the addition of Joe Balbona as Senior Partner and CEO. RBB continues to thrive today — 65 years after its founding — employing over 100 people, specializing in medical architecture and other large institutional projects, designing buildings throughout the United States and abroad.
In the Bay Area, Baran designed the notable Howard A. Friedman Pavilion (at the Jewish Home of San Francisco) and the Alta Bates Comprehensive Cancer Center in Berkeley. Both buildings give evidence of his superb eye for detail, his capacity to mesh utility with beauty and to design healing spaces that bring the outside in by allowing access to plants, gardens, and natural light and materials. He also had an office in Tel Aviv and designed many hospitals and medical centers throughout Israel.
After he retired in 1992, Baran created the Architectural Office Visit program, an innovative project that brought inner-city youth on tours to architecture firms and buildings to inspire an interest in architecture and to facilitate training opportunities.
Baran was also an avid adventurer. His journeys around the world with his wife led to lifelong friendships, legendary storytelling, a beautiful art collection and a strong commitment to social justice. Baran and his wife hosted people visiting and studying from Ethiopia, India, Vietnam and Europe. He was a lover of culture, a classical guitarist and an opera aficionado. He was known for his generosity, strength, creativity, avid curiosity and intelligence.