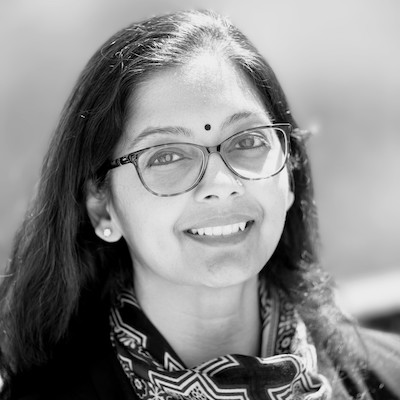 Haripriya Sathyanarayanan
Ph.D. Student - Architecture
Email
haripriya_snarayanan@berkeley.edu
Research Interests/Specializations
Evidence-based Design, Healthcare Design Research, Participatory Design | Co-Design, Virtual Reality and Biofeedback, Patient Experience, Total Building Performance, Building Performance Simulations
Degrees
MSc in Building Science, School of Design & Environment, National University of Singapore (2010)
BArch, University of Madras, India (2001)
Biography
Haripriya Sathyanarayanan, a PhD candidate in Architecture (Building Science & Sustainability) at UC Berkeley, blends her architecture background, sustainable design expertise, and teaching experience to enhance pediatric patient room design. Her interdisciplinary approach integrates virtual reality, biofeedback, and collaborative design to improve patient experience. Haripriya is a PhD Intern at PNNL, expanding her field expertise in Building Simulation & Design while contributing to DEI-focused residential energy code projects. She holds a Master of Science (Building Science) and a Bachelor of Architecture, and her awards, including the Regents Fellowship, recognize her outstanding research efforts. With certifications like EDAC, LEED AP (BD+C), and WELL AP, Haripriya embodies a commitment to sustainable and human-centered design.
Courses Taught
ESPM W169: International Environmental Politics (Summer 2023, 2022)
Arch 240: Advanced Study of Energy and Environment (Spring 2022, 2019)
Arch 140: Energy and Environment (Spring 2021)
Arch 149: Zero Energy Building (Summer 2019, 2018)
Discipline-Cluster Workshop Leader for Studio, Art and Environmental Design: Teaching Conference for First-Time Graduate Student Instructors (Spring 2022, Fall 2021, Spring 2021, Fall 2020, Spring 2020, Fall 2019)
Awards Recognition
PhD Student Commencement Speaker 2023 for the College of Environmental Design (CED), UC Berkeley
XLab Grant for Human Subjects Studies 2022
Roselyn Lindheim Award 2021-2022
2021 Griffin/McKahan/Zilm (GMZ) Graduate Fellowship in Health Facility Planning & Design
Helen Wallace Dissertation Award 2021-2022
Mentor – BCNM Undergraduate Research Fellowship 2020-2021, 2021-2022
2020 Robert J. Kain Healthcare Design Education Scholarship
The Beryl Institute's 2020 Patient Experience Research Grant for Scholars
ASHRAE Eric Thor Andresen Memorial Scholarship 2020 – Top Award
BCNM Summer Research Award 2020
Outstanding Graduate Student Instructor Award 2020
SURF SMART Mentor Summer 2019
Regents Fellowship for Graduate Study (PhD in Architecture) 2017, University of California, Berkeley
Gold Medal, M.Sc. Building Science in 2010
Gold Medal, B.Arch., Sathyabama Engineering College in 2001
Selected Publications
Sathyanarayanan,H.,& Caldas.L. (2022). Co-Designing with Children: Innovating Patient Engagement and Participation in Pediatric Healthcare Design Research with Immersive Technology and Affective Interactions. Academy Journal No.24 (in publication)
Ye,Y.;Dehwah, A.H.A.; Faulkner,C.A.; Sathyanarayanan,H.; Lei,X. A Perspective of Decarbonization Pathways in Future Buildings in the United States. Buildings 2023, 13,1003.
Kalay, Yehuda E, Haripriya Sathyanarayanan, Davide Schaumann, Albert Wang, Gang Chen, and Ramdas G Pai. (2020). Simulation-Powered Smart Buildings Enabled by Visible Light Communication. In SimAUD 2020: Proceedings of the Symposium on Simulation for Architecture and Urban Design (pp. 531-538). Society for Modeling & Simulation International (SCS). Preprint
Kalay Y.E., Sathyanarayanan H., Schaumann D., Wang A., Chen G., Pai R.G. (2020) VLC-Enabled Human-Aware Building Management System. In: Streitz N., Konomi S. (eds) Distributed, Ambient and Pervasive Interactions. HCII 2020. Lecture Notes in Computer Science, vol 12203. Springer, Cham.
Wong, Nyuk Hien, Steve Kardinal Jusuf, Nedyomukti Imam Syafii, Yixing Chen, Norwin Hajadi, Haripriya Sathyanarayanan, and Yamini Vidya Manickavasagam. "Evaluation of the Impact of the Surrounding Urban Morphology on Building Energy Consumption." Solar Energy 85, no. 1 (January 1, 2011): 57–71.