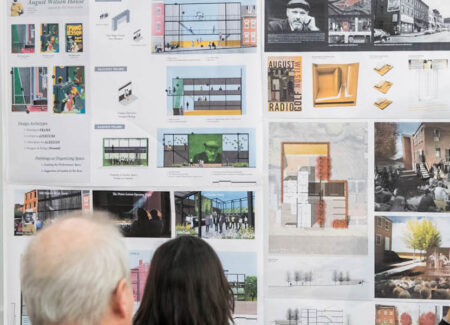 Career Counseling
It's never too early to start researching career options, marketing yourself, and becoming a known quantity in the professional world. Then, when you're ready to make the leap, it won't seem like a big deal at all.
At CED, you're already surrounded by a vibrant community of design and planning firms, many with ties to the faculty and alums. While many of our graduates work in the design and planning fields, our alums have also gone on to careers as medicine, law, real estate development, acting, and teaching. There's no limit to what you can pursue as a CED graduate.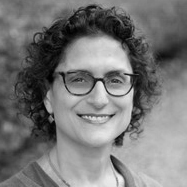 Career Counselor
Make an appointment with Dinorah to discuss job search needs, resume support, alum mentorship, or interview practice.
Our career counselor provides career counseling and advice regarding career exploration, internships, job search strategies, graduate school, and LinkedIn assistance or profile reviews for CED students.
We also offer personalized career counseling, a yearly CED Career Fair, and a wide variety of professional development workshops on topics such as licensure, internships, and applying for graduate school. We look forward to helping you explore your options.
Employers Employers

Interested in adding your opportunity to our website? Post your listing on Handshake to be included. If you need assistance posting the opportunity, consult the Handshake Help Center or contact the Career Center's Employer Relations Department at ocr@berkeley.edu.
Career Options
Read more about potential career paths, opportunity hubs, and the logistics of the licensure process. For further guidance and resources, be sure to check out UC Berkeley's Career Center.
Architecture
Landscape Architecture & Environmental Planning
City & Regional Planning
Sustainable Environmental Design
Architecture Architecture

Architects plan and design houses, office buildings, and other structures. Architects work in the construction industry and are involved with designing new buildings, extensions or alterations to existing buildings, or advising on the restoration and conservation of old properties.

They can work on individual buildings or on large redevelopment schemes, and can be responsible for the design of the surrounding landscape and spaces.

The role of an architect is varied and can range from freelance and small-scale project work to employment with multinational organizations working on iconic landmarks.


Job and Internship Opportunities

Architecture News and Community

Licensure and Career Development
Landscape Architecture & Environmental Planning Landscape Architecture & Environmental Planning

Landscape architects design gardens, public parks, playgrounds, residential areas, college campuses, and public spaces to be functional as well as beautiful and harmonious with the natural environment. Landscape architects also plan the locations of buildings, roads, walkways, flowers, shrubs, and trees within these environments.

Landscape architects use several different technologies in their work. For example, through the use of computer-aided design and drafting (CADD) software, landscape architects prepare models of their proposed work. They then present these models to clients for feedback to demonstrate the final look of the project. Many landscape architects also use geographic information systems (GIS), which allow them to present data visually as maps, reports, and charts.

Landscape architects undertake projects that seek to enhance the natural beauty of a space and provide environmental benefits. They may plan the restoration of natural places disturbed by humans, such as wetlands, streams, and mined areas. They may also design "green roofs" or rooftop gardens that can retain storm water, absorb air pollution, and cool buildings while also providing pleasant scenery. Managing storm water runoff is another important part of many landscape architectural plans because it protects clean water sources and natural ecosystems from pollutants. Landscape architects also play a role in preserving and restoring historic landscapes.


Job and Internship Opportunities

Landscape Architecture News and Community

Licensure
City & Regional Planning City & Regional Planning

Planners advocate the best use of a community's land and resources for residential, commercial, educational, and recreational purposes. Some planners work on broad, community-wide plans; others focus on specific issues. When beginning a project, planners work with public officials, community members, and other groups to identify community issues and goals.

Using research, data analysis, and collaboration with interest groups, planners formulate strategies to address issues and to meet goals. They also may help carry out community plans, oversee projects, and organize the work of the groups involved. Projects may range from a policy recommendation for a specific initiative to a long-term, comprehensive area plan.

Planners use a variety of tools and technology in their work, including geographic information systems (GIS) that analyze and manipulate data. GIS is used to integrate data with electronic maps. For example, planners use GIS to overlay a land map with population density indicators. They also use statistical software, visualization and presentation programs, financial spreadsheets, and other database and software programs.


Job and Internship Listing

Local Bay Area Organization

National and International Organizations
Sustainable Environmental Design Sustainable Environmental Design

Protecting the environment is an important goal for many organizations. A way to achieve this goal is to pursue sustainability, which is using resources to meet present needs without compromising future resources. Although sustainability most often is associated with environmental protection and conservation, it also has social and economic impacts. In fact, many companies adopt sustainability strategies to increase profits, and the environmental aspects become an added bonus.

Sustainability professionals help organizations achieve their goals by ensuring that their business practices are economically, socially, and environmentally sustainable. Sustainability is a diverse field that includes a wide variety of professionals. Sustainability professionals can be business managers, scientists, or engineers, or they can come from other backgrounds. Although their specific career paths might differ, sustainability professionals promote environmental protection, social responsibility, and profitability.


Job and Internship Listings

Local Bay Area Organizations
SPUR – a San Francisco–and San Jose–based public policy think tank whose mission is "to promote good planning and good government"
Urban Ecology – San Francisco organization dedicated to using planning, design, and policy to create sustainable and fair neighborhoods
Urban Habitat – Oakland organization dedicated to empowering low-income communities through research, advocacy, and coalition building