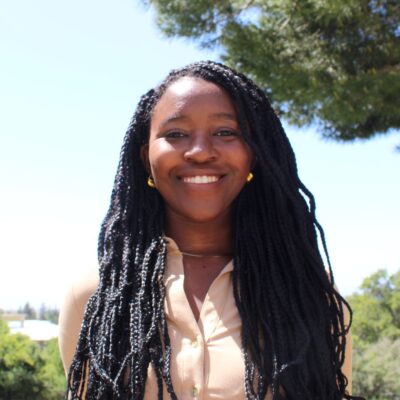 Sophia O'Neal-Roberts
Abbey MRED+D Student, Class of 2024
EDUCATION
California State University, East Bay, B.A. in History – Sustainability and Moderation
Role Before MRED+D
Assistant Project Manager, Burbank Housing Development Corporation
Bio
Over the past three years, Sophia's journey in real estate development has been ambitious. Sophia got her start in real estate development through the Bay Area Housing Internship Program (BAHIP) during her third year at California State University, East Bay. As a BAHIP intern, she was placed at Eden Housing, one of the largest affordable housing nonprofits in the Bay Area. During her internship she learned a variety of real estate development skills. These skills included assisting with acquisitions, closings, funding applications, financial proformas, and leading community meetings.
While finishing her fourth and final year at California State University, East Bay, Sophia was hired by Eden Housing as an Assistant Project Developer, where she worked on several senior, multifamily, and single room occupancy affordable housing developments throughout the Bay Area. After two years with Eden Housing, Sophia decided to transition to Burbank Housing in Sonoma County, as an Assistant Project Manager. Since then, Sophia has been working on various rehabilitation developments, Homekey housing developments, as well as affordable homeownership programs. Sophia continues to develop her skills and expand her knowledge in real estate development.
Sophia believes that housing is a human right, and affordable housing should be accessible to everyone. Regardless of the complexity, building safe, attractive, affordable housing for those in need continues to be a necessity in our communities. When Sophia is not working on trying to change the world, she enjoys an array of hobbies, such as reading, playing golf, visiting museums, volunteering with the city, and finding new hiking spots.
After completion of the MRED+D program, Sophia will continue her work to revolutionize affordable housing development in California. In the future she aims to start her own affordable real estate development nonprofit to continue to help marginalized communities in an innovative way.