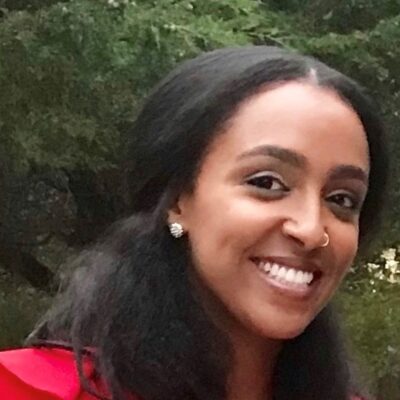 Samrawit (Sammy) Ephraim
Abbey MRED+D Student, Class of 2024
EDUCATION
Spelman College, B.A. in Political Science with a concentration in International Relations
Role Before MRED+D
Business Manager, UC Berkeley
Bio
Samrawit "Sammy" Ephraim is a Berkeley native who completed her undergraduate degree at Spelman College. After returning home from Atlanta, Georgia, Sammy was motivated to shift her career to real estate and has immersed herself in many opportunities for growth. Thus far, Sammy has obtained a Certificate in Construction Management and Leadership through UC Extension and participated in ULI's San Francisco's Pathways to Inclusion Program, as well as the Building Owners and Managers Association (BOMA) SF and the East Bay CREATE Fellows Program.
Sammy is joining the UC Berkeley MRED+D program after spending the previous five years supporting real estate, construction, and development services for university infrastructure. Working as a Business Manager has given her direct exposure and access to the owner-developer perspective and first-hand experience supporting project managers, consultants, contractors, and local officials to make development projects successful. After successfully completing her studies and building a promising career in project management, finance, and real estate development, she is eager to elevate her career to the next level and obtain a master's degree in real estate development and design.
By leveraging her existing professional network and experiences in conjunction with her MRED+D degree, Sammy will strive to create opportunities for development and design that prioritize cultural preservation and long-term sustainability and revitalize communities in need. Her goal is to meet the needs of future development and make conscious and sustainable improvements that impact the community and environment.
Sammy loves to spend time outdoors and often bikes the Bay Trails. When she can't enjoy the outdoors, she loves to brush up on her hobbies such as painting, patternmaking and sewing, and trying new cooking recipes with her family and friends. She's also quite the foodie, trying out new restaurants in the Bay Area and making time for traveling.