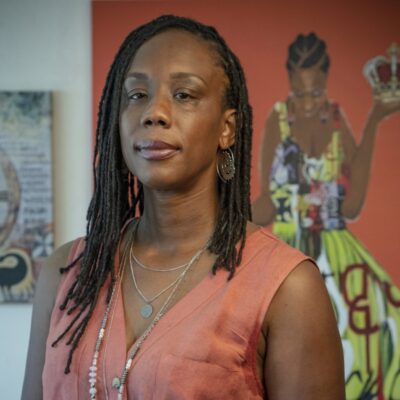 Rashida Chase
Abbey MRED+D Student, Class of 2024
EDUCATION
Indiana University, B.A. in Communication
Fashion Institute of Design and Merchandising, A.A. in Merchandise Marketing
Role Before MRED+D
Artist and Community Engagement Director, AMP Oakland, Ivy Hill Entertainment
Bio
As a nontraditional developer with deep insight into community needs, Rashida has the distinct ability to amplify the tremendous value artists bring to development projects and build bridges between the artistic and development communities. Rashida believes that building these relationships is integral to the advancement of cultural, social, and economic development in our cities and will lead to larger conversations in the development world about how to incorporate and truly invest in the creative cultural class of their cities and regions. It is Rashida's goal and intention to serve her community through real estate, and her journey into development has pulled her from her work as a practicing artist, propelled her into the development world, and led her to the MRED+D program.
Since becoming deeply engaged in community activism in 2017, Rashida spent time familiarizing herself with real estate development concepts, building her network, and increasing her skill set to become a competent and community-focused developer. She has engaged in community development activities as an artist/community member, including work with the Downtown Oakland Association activating public space as the Director of AMP Oakland; working with Oakland's District 3 Councilmember Fife on creating a 7th Street Cultural District; becoming a member of the Malonga Improvement Task Force; and being nominated to participate in several prominent development projects in Oakland, including community benefit groups for the Henry J. Kaiser Convention Center, Howard Terminal, and the West Oakland BART Community Advisory Council.
Completing the Richmond Neighborhood Housing Services Emerging Developers Program in 2022 further exposed Rashida to the development process and allowed her the privilege of studying with diverse developers and real estate professionals who are working on major projects within Oakland and the greater Bay Area. Rashida believes that it is time to create revolutionary models for affordable, sustainable housing for artists and community cultural spaces and intends to use her MRED+D degree, background in healthcare, and practice as an artist to integrate principles of wellness and promote the preservation of culture in sustainable, affordable spaces built in consideration of artists and their varied needs in living and communal environments.
In her free time Rashida enjoys cooking for her family, learning to grow the foods she loves most, exploring the Bay Area, creating healing tea blends, and attending and performing in concerts and festivals.