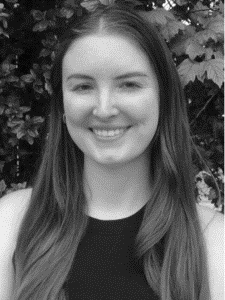 Nathalie Grogan
IURD Program Assistant and Scheduler | MUD Academic Advisor
Address
IURD Suite - Room 316 Bauer Wurster Hall
Address
IURD Suite - Room 316 Bauer Wurster Hall
Email
nathaliegrogan@berkeley.edu
Bio
Nathalie Grogan is a recent Cal graduate, majoring in English and minoring in Gender and Women's Studies, with a passion for writing, communication, and community. While at Cal she worked as an Arts and Entertainment reporter for the Daily Californian, was co-manager of marketing for Bowles Hall Residential College, and a student assistant within People and Culture. Hailing from Pacifica, California she is an avid swimmer and worked as a lifeguard/swim instructor before her promotion to manager at Jean E. Brink Pool. In her free time Nathalie loves to visit art galleries, discover new music, and relax with a good book.
Position Description
Nathalie is the Program Assistant for the Institute of Urban and Regional Design. As Program Assistant she assists with the program management needs of MRED+D, MUD, SED, and IURD. Under this umbrella, she performs administrative tasks, manages department events, schedules courses, supports student services, and spearheads public communications.
As the MUD Academic Advisor, Nathalie provides current and prospective students with information and resources to aide them in their admissions process, their class scheduling, and their attainment of the Master of Urban Design degree.