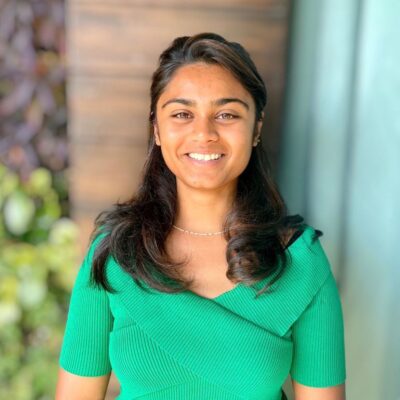 Mithila Jagtap
VP of Careers in the Real Estate Development Student Association and Abbey MRED+D Student, Class of 2024
EDUCATION
California College of the Arts, Bachelor of Architecture
Role Before MRED+D
Designer and Marketing Coordinator, Leddy Maytum Stacy Architects
Bio
Mithila joins the MRED+D program from Pune, India. She moved to California in 2016 for her undergraduate education, receiving a Bachelor of Architecture from California College of the Arts, San Francisco. Throughout her projects at CCA, she was drawn to learn about how humans interact with the spaces they inhabit. She strives to design something that every person needs instead of high-end buildings that only some people can afford. Her process of design is from a researcher's perspective, exploring human behavior in the scope of architectural and urban systems to develop informed design strategies.
Since her graduation in 2019, she has been working as a Designer and Marketing Coordinator at Leddy Maytum Stacy Architects. While working with LMSA, she learned that good architecture addresses social issues by incorporating sustainable design to improve people's quality of life. She incorporated her beliefs and aspirations as a designer into real-life projects, working alongside like-minded people. She gained hands-on experience working on affordable housing projects in San Francisco from the RFP phase to Construction Drawings. Working with real estate development clients on affordable housing and community-driven projects, Mithila started seeing the importance of design in real estate development and how interconnected the architecture and real estate development fields are. With the MRED+D program, she aims to tackle some of the housing crises in the Bay Area and in India; housing for low-income groups is a major issue. As an Architect + Developer, Mithila aspires to work on housing projects incorporating sustainable design and improving people's quality of life globally.
Mithila has been asking these questions, and throughout her master's education she will continue to ask: How to provide housing for the unhoused? How to improve the quality of slums? How to address social issues while incorporating sustainability, and have a positive impact on communities and neighborhoods?
On a personal note, Mithila spends her winters skiing and her summers sailing, climbing, cycling the Marin hills and backpacking the Sierra Nevada and Big Sur Mountains. She also does ceramics and builds furniture using live edge wood slabs.