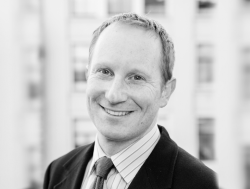 Egon Terplan
Robert S. Cornish Endowed Chair of Regional Planning and Lecturer in City & Regional Planning
Email
egonterplan@berkeley.edu
BIOGRAPHY
Egon Terplan is a specialist in regional economic development, land use, transportation, government reform and regional policy. From 2019 to 2022 he served as the Senior Advisor for Economic Development and Transportation at the Governor's Office of Planning and Research and California Governor's Strategic Growth Council. His work crossed regional economic development, transportation policy, and regional planning (land use and transportation). He helped lead the Regions Rise Together initiative for the Governor's Office of Planning and Research (OPR) and the Governor's Office of Business and Economic Development (GOBiz). He also led the California Transportation Assessment for the Strategic Growth Council working with a research team from UC ITS.
Prior to joining the Governor's office in April 2019, Egon was the Regional Planning Director at SPUR, the Bay Area's urban policy think tank. While at SPUR, Egon authored or co-authored dozens of reports and policy studies on the intersections of economic development, regional planning, workforce preparation, land use, transportation and governance. His published reports include Harnessing High-Speed Rail, The Urban Future of Work, a Bay Area Economic Prosperity Strategy and the first-ever report on the Northern California megaregion. He was a frequent speaker and guest lecturer and also served on the San Francisco Workforce Investment Board, the Regional Planning Committee for the Association of Bay Area Governments and was Vice Chair of the Policy Advisory Council of the Metropolitan Transportation Commission.
Prior to joining SPUR, Egon spent more than five years with ICF International managing regional economic development strategy projects and advising cities and regions throughout the world on economic development and competitiveness. His work included managing and writing collaborative regional economic strategies throughout California and in Alberta, British Columbia, Connecticut, Louisiana, Ohio, Ontario and South Carolina. His international work included designing and implementing competitiveness programs in Argentina, Bosnia & Herzegovina, the Dominican Republic, Jamaica, and Nigeria.
Before graduate school, Egon was also a New York City Urban Fellow working economic development for the Mayor's Office of New York City, a bilingual high school teacher on Riker's Island, New York and a union organizer and researcher with several labor unions, including SEIU and UNITE.
Mr. Terplan received a Master of City Planning from UC Berkeley's College of Environmental Design and graduated Phi Beta Kappa from Swarthmore College in Pennsylvania, where he wrote a thesis comparing street vendor political organizing in Bogotá, Colombia, and New York City.
Egon is a frequent speaker and lecturer, and also serves as an adjunct instructor at Stanford University. He previously taught courses in urban planning at the School of Urban and Public Affairs at the University of San Francisco and in the Department of Urban and Regional Planning at San Jose State.