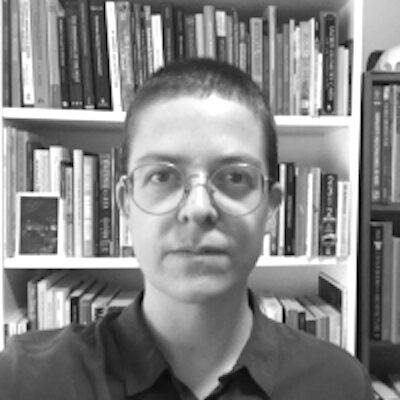 Chandra M. Laborde
Ph.d. Student - Architecture
Email
chandra_laborde@berkeley.edu
SPECIALIZATIONS
California history: radical environmental communes in Northern California, genealogies of spiritual environmentalism.
Gender and Women Studies: ecofeminism, decolonizing queer aesthetics, queer and trans ecologies, lesbian lands.
Environmental Studies: posthuman ecologies, degrowth, climate collapse and the built environment.
EDUCATION
MS, Architecture, University of California Berkeley
MAAD-HTX, California College of the Arts, San Francisco
B.Arch. Architecture Universidad Nacional Autónoma de México, Mexico City
BIOGRAPHY
I am an architect, architectural theorist and historian. My research focuses on the history of radical ecological collectives in Northern California, and how their entanglement with alternative spiritualties and politics such as anarchism, queerness, decolonization, ecofeminism, goddess spirituality, and Zen Buddhism, materialize in the built environment. I am concerned about the role of architects during climate catastrophe, leading my research towards a new understanding of the agency of nature. I hold a Master of Science in Architecture from UC Berkeley with a thesis called "Spiritual Environmentalism in Druid Heights: Between Preservation and Composting;" a Master in Advanced Architectural Design from the California College of the Arts in San Francisco, with the thesis called "Other Ways of Viewing Contemporary Religious Architecture;" and a Bachelor in Architecture from the Universidad Nacional Autónoma de México in Mexico City, with the thesis "Contributions to a Construction of an Ecological Thought for Dwelling." I have professional design experience with ecological architecture in Tijuana, Baja California, Mexico, where I use passive solar design, the superadobe soil technique, recycled tires and bottles.
Publications
Crysler, Greig C., Yanin Kramsky, Chandra M. Laborde, and Stathis G. Yeros. "Spatializing Queer Ecologies." In The Routledge Handbook of Architecture, Urban Space and Politics, edited by Farzaneh Haghighi and Nikolina Bobic, Routledge. Vol. Volume II. London, (forthcoming)
Laborde, Chandra M., and Santi, Ettore. "Queer Lands: Gendered Experiments in Two Green Heterotopias." You Are Here: The Journal of Creative Geography, University of Arizona XXIII, no. queer ecologies (2022): 30–37.
Laborde, Chandra M., and Stathis G. Yeros. "Queer Ecological Imaginations." Ground Up Journal, Department of Landscape Architecture and Environmental Planning at the University of California, Berkeley, 10, no. Breathe (2021): 126–33.
Work