EVENTS
Giving Voice to Values: Opening Reception and Conversation with Cathy Simon and Karen Alschuler
Thursday | Oct 12, 2023
5:00pm - 7:00pm
Environmental Design Library, 210 Bauer Wurster Hall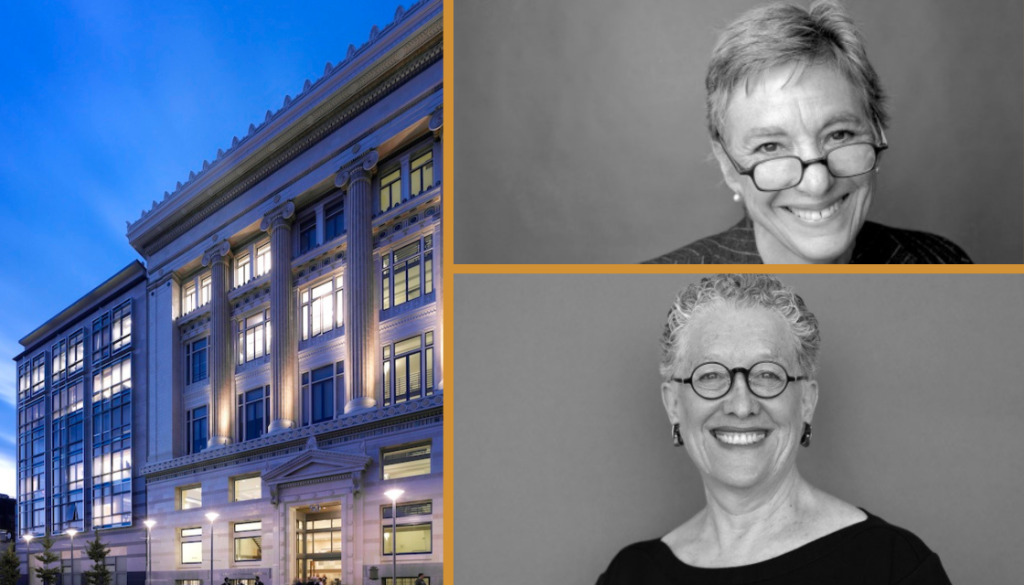 Join the Environmental Design Archives to celebrate the opening of Giving Voice to Values, an exhibition featuring materials from the newly cataloged SMWM Collection. The evening includes a moderated discussion with architect Cathy Simon, co-founder and president of SMWM, and urban planner Karen Alschuler, leader of SMWM's urban design and planning practice. Light refreshments provided.
In conversation with Benjamin Grant, Simon and Alschuler discuss SMWM's approach to architecture and urban design and the values that informed their practice. They reflect on the firm's work as a response to place and time, to program and its aspirations, to community and context, and to moving beyond boundaries and the choreography of the public realm for all.
About the speakers
Cathy Simon's 50-year career focuses on transformative design. Her award-winning work comprises higher and secondary education including buildings and institutional master plans. She has reinvented numerous historic structures and designed significant waterfront projects and numerous postindustrial Bay Area waterfront sites. In 2015, she was the William A. Bernoudy Architect in Residence at the American Academy of Rome and taught at both Stanford and UC Berkeley. Simon is the author of Occupation:Boundary: Art, Architecture and Culture at the Water. She is a member of the University of Washington Architectural Commission and the UC Berkeley Design Review Committee, and she is the recipient of the 2023 Harvard GSD Alumni Award.
Karen Alschuler joined SMWM in 1992, building an urban design and planning practice of 400 projects across North America. Transforming urban districts, waterfronts, and mobility centers, Alschuler's plans are unique to settings, welcoming of diverse populations, and remarkable for their open-access process. Embracing a sustaining collaboration with SMWM architects, her urban design plans stewarded well-loved places amid districts of change and fostered design excellence in city building. The portfolio received an APA National Planning Excellence Award. Alschuler is FAICP, was a founding member of Boston's Civic Design Commission, chair of the BCDC Design Review Board for San Francisco Bay, and is a CED Distinguished Alum. Prior to SMWM, Alschuler was a public planner for Santa Cruz County and led planning and urban design teams at Skidmore, Owings & Merrill in Boston and New York.
Benjamin Grant (moderator) is a Bay Area city planner, urban designer, curator, and teacher. He spent over a decade at SPUR, the urban policy research organization, where he served as urban design policy director, leading research on physical planning, public space, and urban design. He is the author of numerous reports and studies on subjects that include retrofitting suburbs for walkability, the innovation-sector workplace, accommodating regional growth, and managing public open space. He has curated numerous exhibitions for the SPUR Urban Center, and as co-founder of city|space, a nonprofit cultural organization. He has taught urban history and design at UC Berkeley, San Jose State University, and the San Francisco Art Institute.
About the exhibition
Giving Voice to Values celebrates the acquisition of SMWM's archives by the Environmental Design Archives with a selection of original photographs, models, designs, and ephemera that chart the legacy of the practice. The exhibition focuses on four themes that encapsulate the firm's groundbreaking approach: Stitching the City, Culture and the Public Realm, Theater of the Waterfront, and Inspiring Education. Giving Voice to Values is on view in the Judith Stronach / Raymond Lifchez Exhibit Cases in the Environmental Design Library from October 12 to December 15.
If you require accommodation to fully participate in this event, please email designarchives@berkeley.edu at least 10 days prior to the event.