EVENTS
Reception: Branner, Stump & Beckerman Returning Fellows Exhibition
Monday | Feb 13, 2023
6:00pm - 8:00pm
On Campus
Building: 108 Bauer Wurster Hall
The John K. Branner Traveling Fellowship, Harold Stump Memorial Traveling Fellowship, and Andrew Beckerman Travel Fellowship are prizes for international travel and research awarded annually to Master of Architecture students. The Branner, Stump & Beckerman Returning Fellows Exhibition surveys the experiences and findings of recent fellowship recipients after their international travels.
Join us for a reception with recent fellows and the CED community in 108 Bauer Wurster Hall. Free and open to the public.
Returning Fellows
Elaine Forbush (M.Arch. '23)
Andrew Beckerman Travel Fellow and John K. Branner Travel Fellow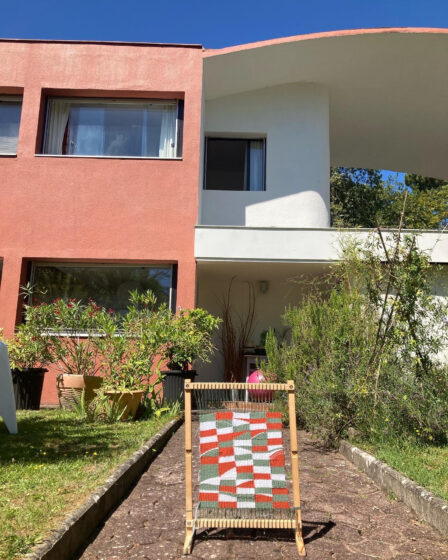 Collective Changes: Self-building and co-design in multi-family housing
Unlike single family housing, apartment buildings juxtapose the most personal domestic space with the larger building that houses a diversity of people with tangled timelines and changing circumstances. These tensions exponentially complicate the synthesis of a single design that continually meets all the needs of the individuals living there.
To address this, in some buildings residents transform standardized units after they are completed, whereas in others, the traditional design team included residents in the process from the beginning or intentionally left the building open for future change. This research analyzes the methods and effectiveness of resident participation in the design and construction of their own apartments in a variety of sites located in Germany, Belgium, the UK, France, Italy, Finland, Chile, and Argentina.
By spending a week at each location and engaging in on-site weavings and conversations, this study seeks to understand the architectural manifestations of resident participation, how or if it enables people to live better, whether the balance between the various stakeholders practically and aesthetically "works" or not, and how it impacts the lifespan and sustainability of the housing.
Elliot Kwon (M.Arch. + M.C.P. '22)
John K. Branner Travel Fellow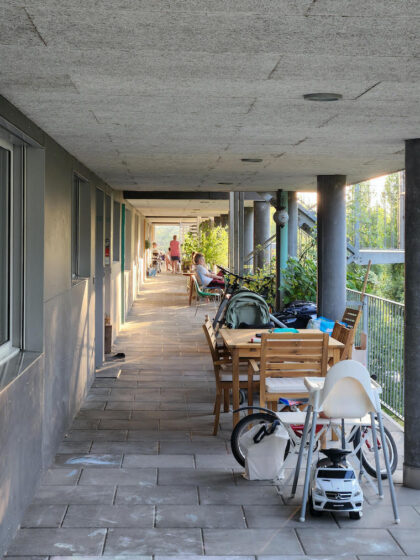 Grounding the Highrise Dwelling
We talk of finding 'ground' and feeling 'grounded' as shorthands to express our rootedness to a certain place, a sentiment central to the concept of 'home.' It is in this regard that multifamily housing, as a typology of 'home' which tends to detach the dweller from ground, presents a curious dilemma. Architects have arrived at a height-driven housing formula which increases the number of houses but decreases easy connections to ground like sidewalks, stoops, and porches, which modulate the relationship between the individual and the world at large. Instead these spaces have become replaced with barren hallways and tight elevator boxes, made just wide enough for occupants to retreat into their own cells. This research travel was undertaken in search of multifamily architectural projects that have attempted alternative design strategies for these often neglected spaces.
Sally Lape (M.Arch '21)
John K. Branner Travel Fellow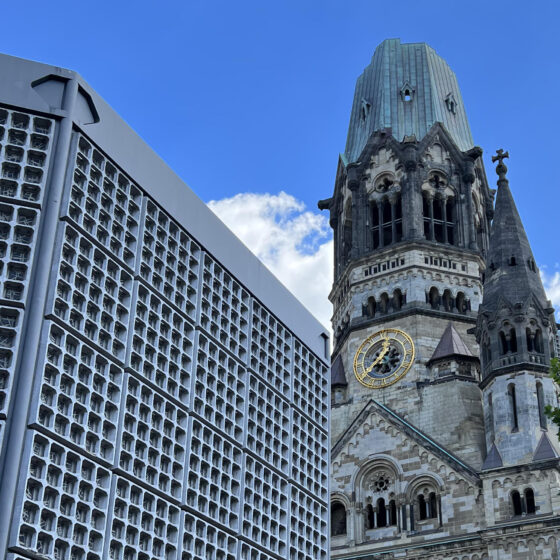 Kaiser Wilhelm Memorial Church in Berlin
Reimagining Residual Spaces of Conflict
War and mass social conflict have shaped the built environment and contributed to our relationships with public space. Spaces that represent conflict are often approached through either erasure or preservation; removed from the collective memory, or suspended in it. This project will explore an alternate approach: the potential for residual structures of conflict to be repurposed through adaptive reuse, imagining a better future.
Each project visited will be evaluated through four lenses: the site's relationship to historical conflict, utilization of adaptive reuse, acknowledgment of the site's historical context, and the extent to which the project creates publicly accessible, community-oriented spaces. The intersection of these strategies for reuse, commemoration, and programming reveal crucial boundaries in how we as a culture engage with our history, and the spaces that emulate this history. A place of learning, expression or recreation may also be a place for reflection or mourning. In allowing and examining this sometimes uncomfortable confluence, we can better understand how to move forward.
Megan McConnell (M.Arch '22)
John K. Branner Travel Fellow
Seeing Ground: Encounters with Pavement along Ten Decommissioned Airstrips
Pavement, in its idealized and freshly laid form, is smooth, seamless, clean, efficient, boundless. It is a thin artificial strata applied over natural ground, superimposing new topological form at the landscape scale. Pavement is everywhere. And because of its ubiquity, pavement has become invisible. In an effort to discern this strange duplicitous ground, Megan spent three months traversing decommissioned airstrips—seeking moments of perceptibility in the pavement. Along the way, encounters with friction, seams, layers, softness, discontinuity, thickness, and misuse began to point towards conditions under which paved ground might be brought into relief.

Lucy Wang (M.Arch '23)
Harold Stump Memorial Travel Fellow
A photographic documentation of shifting landscapes in coastal California and the Swiss Alps. Produced in 2022, this series focuses on the power of the movement of water. Communities inhabit these wildernesses, some seasonally while others year round, homes often passed down from generation to generation. The photographs are alpine and coastal communities' everyday imagery, living in shifting landscapes. The series was shot in 35mm black and white film and the prints were developed in a darkroom.
Lucy Wang is an M.Arch student at the University of California, Berkeley and the 2022-2023 Harold Stump Memorial Travel Fellow. Her work has been published in Places Journal and she was previously Editor in Chief of Room One Thousand, UC Berkeley's architecture journal. She earned her bachelor's degree from Stanford University where her interest in film photography began. This is the first public exhibition of her work.
Shin Yang (M.Arch '23)
John K. Branner Travel Fellow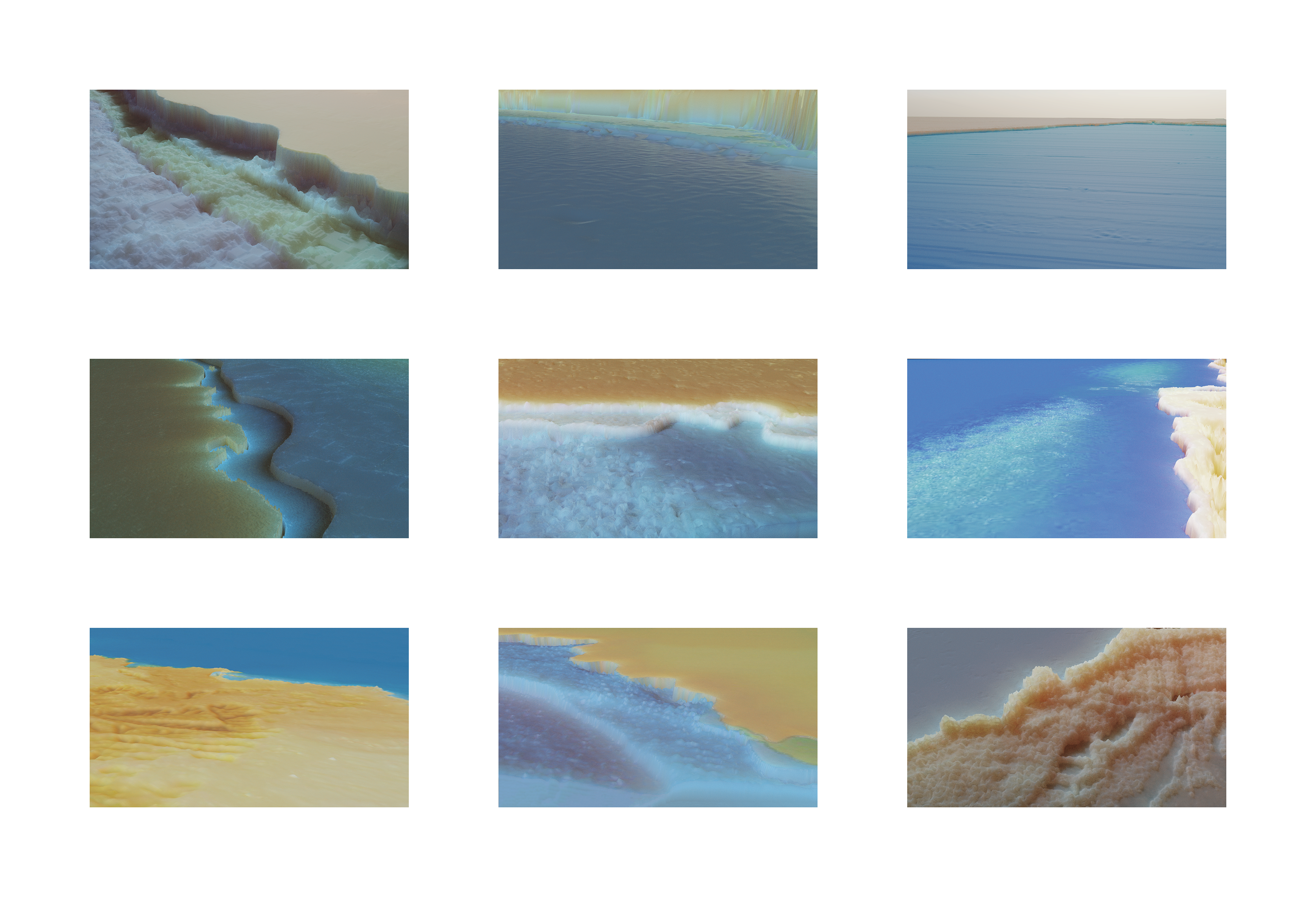 On Detour is an on-going project through which the author continues to explore cities she visited in the process of reading/portraying past experiences. Each "portrait" tells and retells events related to certain aspects of a place. This exhibition includes two portraits, m23 and Ahmed, that draw from the author's experiences in Aqaba (Jordan) and Cairo (Egypt) respectively.
This exhibition is sponsored by the John K. Branner Endowment, Harold Stump Endowment, and Andrew Beckerman Endowment.