EVENTS
Architecture Lecture | Ramón Gámez + Nicolás Maruri: Urban First
Wednesday | Oct 18, 2023
6:10pm - 7:10pm
112 Bauer Wurster Hall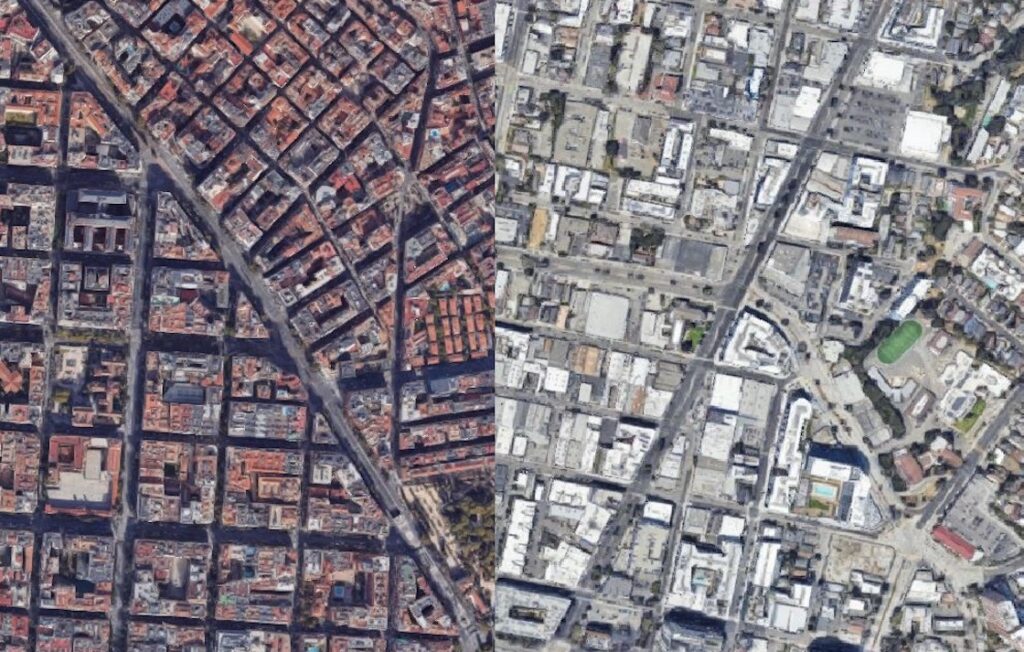 Aerial views of Madrid and Berkeley
Ramón Gámez and Nicolás Maruri, visiting professors in the Department of Architecture this semester from ETSAM (Escuela Técnica Superior de Arquitectura de Madrid) of the Universidad Politécnica de Madrid, present a talk about urbanity, what they call "the hidden design agenda of the architect's work." Using examples of housing in Spain, they argue that dense cities support social sustainability, energy efficiency, and a healthy democracy.
About the Speakers
Gámez is professor in the Department of Building Technology at ETSAM, where he also earned his doctorate. He is the author of several publications, and his work has been exhibited internationally, including works of social housing at the Madrid Pavilion at Expo Shanghai. Gámez founded the office Cuarq Arquitectos in 1990 with Patricia Fernández. It has received numerous national awards, including the Luis Moreno Mansilla Award in 2017 for the project for the Spanish embassy building in Amman, Jordan. 
Maruri received his Master in Building from Columbia University in New York and his doctorate from ETSAM, where he is a professor in the Projects Department. Together with Atxu Amann and Andrés Cánovas, he is co-founder of the office amann-canovas-maruri (aka Temperaturas Extremas Arquitectos SLP), which has received more than 70 international and national awards since its founding in 1987. The firm specializes in interventions in historical heritage sites and developing new housing types in the context of contemporary public space.
Free and open to the public.
If you require accommodation to fully participate, please email bzar@berkeley.edu at least 10 days prior to the event.