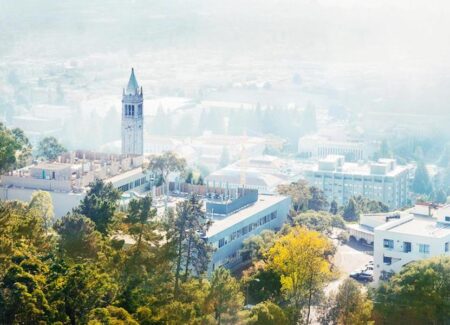 International Students
CED welcomes and encourages international students to participate in any of the CED Summer Programs. International students attending the online Summer [In]stitute program [IN]DESIGN will not need a visa, but English proficiency is required.
Note: If you are a national from another country than the U.S., but are considered a U.S. resident ("green card" holder), you are considered a domestic student. Students who are already studying in the U.S. on an F-1 visa in spring and plan to return to their studies in the fall can transfer the I-20 to UC Berkeley and enroll in the CED Summer Program without an additional visa application. The instructions and links below will likely not apply to you. If you are not sure in which category you fall, refer to this link.
Why UC Berkeley?
UC Berkeley's academic programs are recognized internationally for their excellence. You can expect a rigorous academic experience during your summer studies. The accelerated instruction of the CED Summer Programs means that you will learn at least a semester's worth of material in just a few weeks. Each program is known for an engaged learning style where you interact frequently with instructors and other students.
Summer in the San Francisco Bay Area
Enjoy summer in the vibrant San Francisco Bay Area! Berkeley is centrally located just 25 minutes from downtown San Francisco and within an hour of most local attractions, including national parks, museums, shopping, and restaurants, as well as music, art, and a multitude of cultural events. In San Francisco, walk across the Golden Gate Bridge, stroll down twisty Lombard Street, ride a cable car, visit lively Chinatown, and take a tour of Alcatraz Island.
English Proficiency Requirement
The CED Summer Programs are demanding — on your time, your engagement, your creativity, and your ability to follow lectures and instructions and interact with your peers. To set our international students up for success, we require a minimum proficiency level of the English language. The higher you are above the minimum score, the better you will manage the requirements of the program.
You will need to attach a copy of an acceptable English proficiency exam, taken within the last three years, to the CED Summer Programs SlideRoom application. If you are admitted to the program and start the registration process, you will be asked for (the same) proof of English proficiency again. You then must submit your proof of minimum English proficiency by the I-20 document upload deadline.
You are exempt from the English Proficiency requirement if:
Your university has been granted an exemption based on an Affiliation Agreement. Please check our list of International Registration Centers and ask your international advisor.
Visa & Immigration Process
The CED Summer Programs are full-time academic programs. To attend, international applicants must be issued an F-1 or J-1 visa. Summer Sessions assists international applicants in acquiring the I-20 needed for the student visa. You will find more information regarding visa here.
This process will take some time, so it is important that you apply to the program as early as you can, and at the latest by the international student application deadline. If you miss the deadline, CED Summer Programs admissions will not be able to make the decision in time for you to adhere to the Summer Sessions deadlines for Session D — please particularly note the Visa document submission deadline for the I-20 at the bottom of the page (Session D).
When you receive your admissions letter, you need to ensure to begin the registration process as soon as possible, and within the deadline that is given to you. Be prepared to submit certain documentation, as described here.
Also in the admissions letter, you will be instructed in which courses to enroll so that you fulfill the unit requirements for student visa purposes.
Health Insurance
International students are required to purchase a health insurance that covers the U.S. See this link for details.
More Information
You can also check this page for more information on the process, what to prepare, and what to expect when you arrive on campus. You will also receive communication from your CED summer program during the weeks before your program starts. For additional questions, please check the FAQ section of our website or contact us.